Trips, Tours & Amsterdam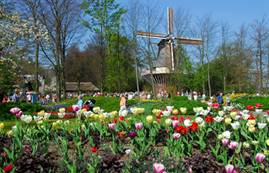 2011 World Congress
Trips, Tours & Amsterdam
Keukenhof Gardens

Wednesday
March 30
1200h-1600h
12 pm - 4 pm

Escorted by a professional Dutch guide, the trip includes round trip transportation, entrance to the park and time for lunch on your own in the park.

Price: €36 + VAT

Book this trip on your Congress registration form or add it on the "Add an Extra" form.

The NH Conference centre Leeuwenhorst is located in the heart of some of Holland's bulb fields.  Today you will have an opportunity to visit the world famous Keukenhof Flower Gardens and experience spectacular floral displays planted in endless varieties along with beautiful works of art. 

World famous Keukenhof is one of the most popular visits in the Netherlands.  Keukenhof was a section of the large estate of Slot Teylingen from the 15th century.   After the death of Jacoba van Beieren, Keukenhof fell into the hands of Baron and Baroness Van Pallandt.  They invited landscape architects J.D. and L.P. Zocher, designers of the Amsterdam Vondelpark, to design the garden around the castle. This design, in the English landscape style, is the basis of Keukenhof.
Now the estate is owned by a corporation.  On the initiative of the mayor of Lisse and a number of leading flower bulb growers and exporters- the first open air flower exhibition was organized in 1949—expanding to an annual event that has drawn visitors from all over the world.  There are many opportunities for lunch at leisure in the park.

This is your opportunity to enjoy amazing Keukenhof Gardens.

Evening in Amsterdam

Thursday
March 31

Depart the hotel
1730h/5:30 pm
Return to the hotel
2300h/11:00 pm

Includes round trip transportation.

Price: €25 + VAT

Book this trip on the Congress registration form or add it on the "Add an Extra" form.

After a day in sessions, head to lively Amsterdam and spend Thursday evening exploring the city's vibrant centre filled with shops, markets & restaurants.  Amsterdam city centre is compact and an easy walk. Take time for a quick stroll and see the Dam Square (on one of the pedestrian walking streets) or experience the canals along the Rokin.  You may also see the Muntplein Tower and the Bloemenmarcht (flower market) along the Singel Canal… all in the centre of town.  You will receive a "quick map" and a list of many convenient places for dinner.  Return directly to the NH Conference Centre by 2300h/11:00 pm.
SPEND TIME IN AMSTERDAM

Visit Amsterdam before or after the Congress

Booking a hotel in Amsterdam is easy on any of the travel web sites.
You can always find a hotel in your budget range. Two star ** and 3 star*** hotels can be an excellent choice. Check to make sure breakfast is included in the rate. To add to your experience in Amsterdam be sure to book a hotel in the city center. 
Note: Use the Congress hotel shuttle to connect to trains to and from Amsterdam before or after the Congress.

PRE-CONGRESS

Amsterdam Hotel packages offered by Delta Travel

Delta Travel, our travel partner in the Netherlands, offers a package including:

One night accommodation- based on double occupancy
Breakfast
2.5 hour guided city tour of Amsterdam
One hour canal cruise
1 day tram ticket for travel in the center of the city
Direct transfer to the World Congress in Noordwijkerhout.

PRICES:
3 star ***hotel:  €246 for two persons
Additional night in a 3 star hotel +€100 for two persons

4 ****star hotel: €336 for two persons
Additional night in a 4 star hotel +€150 for two persons.

To book a Pre-Congress package or if you need more information:

Contact the World Congress Manager: elamour@releveunlimited.com
or
Contact Delta Travel in Holland: familytherapy2011@delta-amsterdam.nl

For more information about Holland visit: http://www.holland.com/global/

For more information about Amsterdam, all the sights, museums, and historic places and to use the INTERACTIVE CITY MAP visit: http://www.iamsterdam.com/en/visiting