Exhibitors
2011 IFTA World Congress
Exhibitor Space and Pricing
Join us as an exhibitor at the 2011 World Congress in Noordwijkerhout, Netherlands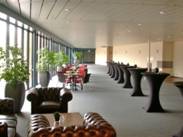 Limited space is available for exhibitors March 30-April 2 during the 2011 IFTA World Congress.   
Expected attendance: 500 professional Family Therapists
Promote your materials, books or items at the Congress in the NH Conference Centre Leeuwenhorst. 
Exhibit space available in public areas where you have an opportunity to meet and mingle with attendees during breaks and free time before and between workshops and sessions.
Exhibit Options

Option 1
One(1) Private Exhibitor Table
Private skirted exhibit table with two chairs.
2,50m x 0,80m (US measurement 8'2" x 2'7.5")
Note: for two adjacent tables, double the space fee



Exhibit Space Fee:  €500
Duration: Wednesday 1600h
through Saturday 1800h

Option 2  
Small Shared Exhibitor Space
"Pick Up Table"
Share a small space with several other exhibitors at one(1) table.  Suitable for promoting a book, smaller items, brochures, memberships, or your organization.

Shared Space Fee: €50
Duration: Wednesday 1600h
through Saturday 1800h
Note: Space is limited for both options and acceptance is based on a "first come first served" basis.
To Reserve Exhibit Space
Contact Ed Lamoureaux, the 2011 IFTA World Congress Manager directly at elamour@releveunlimited.com
Telephone and FAX: USA 1-619-795-0262.  Note time zone: Pacific Time Zone
Payment Options
Payment for exhibit space is accepted by credit card only. 
After space is confirmed, an invoice and a credit card authorization form will be emailed to you.  Payment only accepted in Euros.