Congress Event and Meals
Meals Included in Your Congress Registration:
Thursday, April 7, 2022:  Welcome Lunch
Friday, April 8, 2022:  Mid-Congress Lunch
Saturday, April 9, 2022:  Closing Lunch
Coffee Breaks Included in Your Congress Registration:
Thursday: 
Welcome Coffee Break, 10:15 AM
Afternoon Coffee Break, 3:15 PM
Friday:
Morning Coffee Break, 10:15 AM
Afternoon Coffee Break, 3:15 PM
Saturday:
Morning Coffee Break, 10:15 AM
Closing Coffee Break/Reception, 4:00 PM
Dining Overview at the Sheraton Old San Juan
Dining at the Sheraton Old San Juan Hotel combines the freshest ingredients with classic Caribbean flavors, sure to delight every member of your group. With indoor and outdoor seating options that invite breathtaking views of San Juan Bay, our dining destinations are ideal for formal business dinners as well as casual midday breaks. You can also enjoy a meal in your guest room or suite with our delicious in-room dining options.
Palio
With a focus on fresh, sustainable fish and quality meats, Palio is a celebration of Puerto Rican fusion cuisine. Savor signature specialties including pork chops served "Khan Khan" style and our delicious Seafood Palio. And after a long day in the boardroom, relax with a tropical cocktail or blended mojito while enjoying and stunning views of San Juan Bay. Indoor and outing seating is available.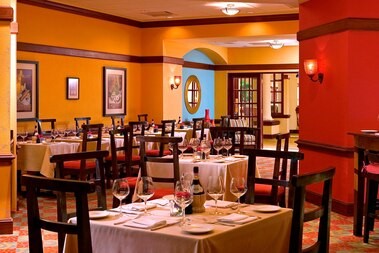 Patio RestaurantBreakfast:
The Congress hotel, the Sheraton Old San Juan Hotel, serves a buffet breakfast in the Patio Restaurant on the 2nd floor.  Breakfast is not included in your guest room rate.
Buffet breakfast, fee from 22.00 USD
Continental breakfast, fee from 12.00 USD
Full American breakfast, fee from 14.00 US
Hours of operation
Mon - Sun,  6:30 AM - 11 AM
Tue -Sun. 5 PM - 10:30 PM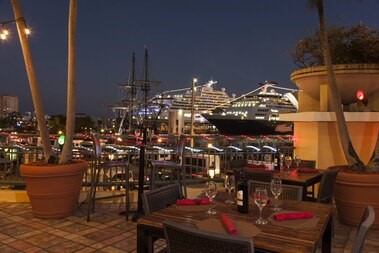 Aromas Coffee - Wine Bar in the Lobby. 
Inaugurated in Fall 2018 and located in the lobby area with Bay views. Offering the Nespresso experience during the day with ample Grab & Go selections and a vast selection of wines, cocktails and Tapas with indoor and outdoor seating. This sophisticated and elegantly decorated space also has WiFi and four TV's to watch your favorite events.
Rise every morning to the only Nespresso coffee experience in San Juan with quick breakfast and Grab & Go items. Follow later in the day with their unique craft sandwiches, salads, soups and tapas and more. You must try the extensive options for craft beer, unique cocktails and fine wine selections. Enjoy ultra elegant indoor and outdoor seating and magnificent bay views.
Open 6 AM - 12 Midnight