Venue / Accommodations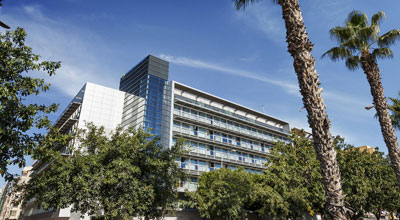 Official Venue of the 2017 IFTA World Congress
ILUNION HOTEL
‪Paseo Marítimo Antonio Machado,
10, Malaga, Malaga, 29002, Spain
Welcome to the Ilunion Hotel--SOLD OUT
Hotel Guadalmedina -
Reservations close February 10, 2017
The 4-star Guadalmedina hotel is located in the heart of the commercial, historic and financial centre of the city. Right opposite the Centro de Arte Contemporáneo, this hotel is only 25 metres from the suburban train station with a direct connection to the airport and a 5-minutes walk from the AVE high-speed train station, the bus stop and Málaga port.
With monuments including the Alcazaba, the Catedral de la Encarnación and the Roman Amphitheatre as well its iconic spaces such as Playa de la Misericordia, the Port, Calle Marqués de Larios, the Picasso Museum or the Plaza de los Naranjos (Orange Tree Square), Málaga offers everything you could wish from a pleasure trip. You can enjoy the city at any time, but in August you can visit the big summer fair with its romerías (gypsy parades), horses, music, the stalls, wine and tapas: happiness in its biggest expression.
Rooms and Suites
Accommodations at Hotel Guadalmedina are in Standard Rooms or Junior Suites.  Standard rooms are available in singles or double. 
IFTA  Rate : 130€uros/ room/night (Dec 16th --)

(At the current exchange rates, Dec. 21, 2016, the hotel rooms in US$ are: 130€ = US$139)
The Special and exclusive IFTA rate is 130 €uros per day with Buffet breakfast and taxes included. IFTA rates are available for a week prior to and after the Congress, unless they are sold out.
The Guadalmedina Hotel Reservation system for IFTA closes February 10, 2017
Guadalmedina Hotel is (4* ) is a 5 minute walking distance from the Hotel Ilunion
Double per day 132€/breakfast and taxes included (US$147)
Single per day 120€breakfast and taxes included (US$133)
Reservation Form
Book your hotel with IFTA's Housing Bureau
Book your accommodation through Tecnica Incoming Housing Bureau, our online Housing Bureau and Reservation Center for the Ilunion Hotel. Reserve a room at the Ilunion Hotel and enjoy the best IFTA rate.
Reservation Center
TÉCNICA INCOMING- HOUSING BUREAU
Calle Granados, 6 – 2ºA
29008 MALAGA
Tél: +34 952 22 5688 / Fax: +34 952 60 25 52
Mail: pepe.puebla@tecnicaincentives.com
Represented by: José Puebla